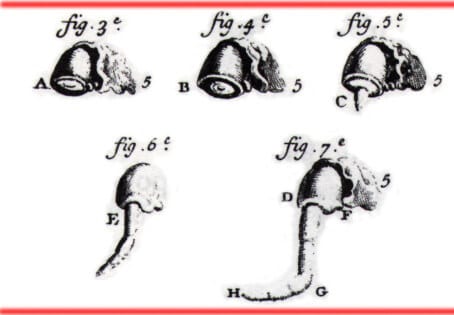 René-Antoine Ferchault de Réaumur
René-Antoine Ferchault de Réaumur (1683-1757) is better known today as the inventor of the alcohol thermometer, whose temperature scale is named after him. However, to most biologists Réaumur is known as the man who in 1712 presented to the French Academy a remarkable paper on crayfish limb regeneration ("Sur les diverses reproductions qui se font dans les Ecrevisse, les Omars, les Crabes, etc. et entr'autres sur celles de leurs Jambes et de leurs Ecailles". Mem. Acad. Roy. Sci., pp.223-245). The paper is beautifully illustrated by the author and clearly demonstrates the ability of these animals to regenerate missing limbs.
A very interesting recount of Réaumur's work can be found in Charles E. Dinsmore's "A History of Regeneration Research: Milestones in the Evolution of a Science". The book can also be purchased through Cambridge University Press.
Above, an excerpt from one of Réaumur's drawings is shown illustrating the successive stages of limb regeneration in the crayfish.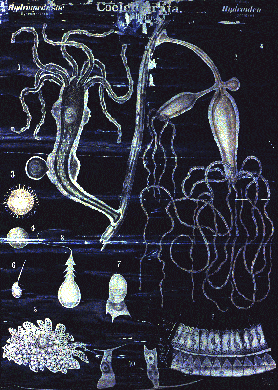 Abraham Trembley
A young tutor at the time, the Swiss Abraham Trembley (1710-1784) wrote in November 25, 1740:
"The first operation I performed on the polyps was to cut them transversely…. I place it with a little water in the hollow of my left hand….When I have it as I want it, I delicately pass one blade of the scissors, which I hold in my right hand, under the part of the polyp's body where it is to be severed. Then I close the scissors." (translated by Lenhoff and Lenhoff)
Such amputations resulted in two fragments that were each capable of regenerating an entire polyp on their own. Thus began the experimental study of regeneration in the metazoans. Because of their morphology, and their ability to regenerate, the polyps reminded Trembley of the mythical Hydra, and adopted this Greek name to refer to them. This name endures to this day and so does the study of regeneration in Hydra (cnidarians).
An English translation of Trembley's work can be found in Sylvia and Howard Lenhoff's "Hydra and the Birth of Experimental Biology-1744." This book can be ordered through Amazon.com.An index of this translation has been recently released by Sylvia and Howard Lenhoff.
At left is a 19th century illustration of various hydra taken from The Wandtafeln of Rudolph Leuckart (1822-1898)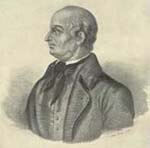 Lazzaro Spallanzani
The Italian scientist Lazzaro Spallanzani (1729-1799) is probably best known for his contributions to the debunking of the theory of spontaneous generation. Yet, among his various scientific interests, Spallanzani also investigated in great detail the ability of various animals to regenerate missing body parts.
In his Prodromo di un opera da imprimersi sopra la riproduzioni animali, published in 1768, Spallanzani reported the regenerative properties of earthworms and snails, and of the legs, tails and jaws of aquatic salamanders, as well as the tails of tadpoles and the legs of young and adult frogs.
In fact, one of his experiments on the regeneration of the head of snails inspired many people to reproduce this experiment, including Voltaire (1694-1778), who after successfully repeating Spallanzani's experiment would write a letter to Madame du Deffand (who was blind) expressing to her his hope that humans may one day be able to harness this ability. In typical Voltairian humor he would suggest to his friend du Deffand that for many people such a change would be nothing but a great improvement for all concerned parties (to learn more about the great snail controversy of 1786 in France, and of Lazzaro Spallanzani's influence in the Europe of his time J. Rostand's1951 book Les Origines de la biologie et l'Abbé Spallanzani should be consulted).
A more accessible and very thorough review of Spallanzani's work on regeneration can be found in Charles E. Dinsmore's "A History of Regeneration Research: Milestones in the Evolution of a Science" published by Cambridge University Press. The book can also be purchased through Amazon.com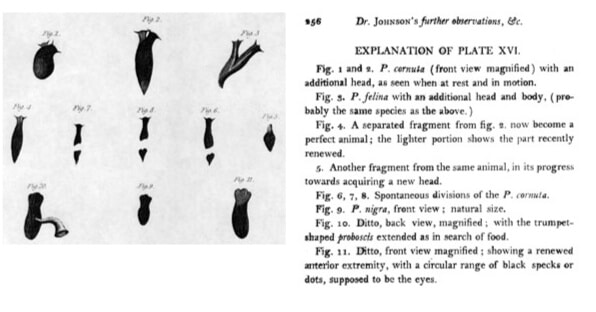 The Earliest Known Experimental Analyses of Regeneration in Planarians: the Work of Dalyell and Johnson
"Observations on Some Interesting Phaenomena in Animal Physiology Exhibited by Several Species of Planariae" written by J.G. Dalyell was published in Edinburgh in 1814. Perhaps the first experimental approach to planarian regeneration, this monograph reports Dalyell's efforts to reproduce experimentally an anomaly he had observed in wild planarians. In his own words:
"…the planaria in relation to others was of small size, its tail was bifid, and out of the cleft grew a body, separated and distinct from the main trunk of the animal, which by some strange and anomalous proceeding had been surmounted by a head, lively and well defined…In the course of a week or little more the posterior head had separated by spontaneous division and had disappeared. But soon afterwards a kind of projection occupied its place; and it was not without amazement that I beheld this projection vegetate into a new head, resembling the one which had been lost. About a month having elapsed, it was well shaped and entire. My belief being thus corroborated in the probable effect of experiment, it was reasonable to conclude, that if separating parts became complete animals, if a mutilated trunk regained the defective portion; and if a head, the most important of all organs, was evolved from every inconsiderable fragment, supernumerary parts might, by some particular operation, be produced; yet it was long before reiterated trials were rewarded with success, and I had almost determined to abandon the enquiry, conceiving that a certain nicety, of which I was not master, should be practised, and that it had been beyond my ability to detect the secret cause of failure."
Later, J. R. Johnson would repeat and confirm Dalyell's experiments and he would publish his accounts in the Philosophical Transactions of the Royal Society of London in 1825 (part II, pp.247-256).
To the right is a reproduction of Johnson's illustrations and the corresponding figure legend reporting his experimental results.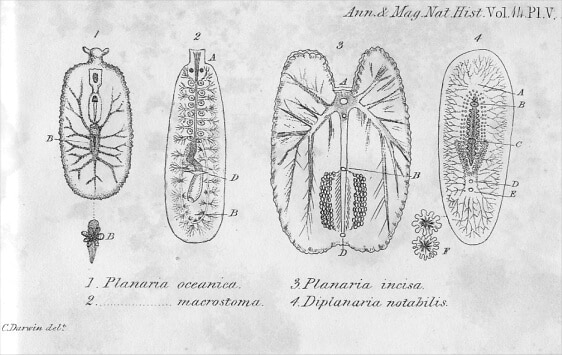 Darwin & Planarians
Planarians did not escape the attention of the great British scientist Charles Darwin (1809-1882). Darwin had the opportunity to observe and marvel over the regenerative properties of planarians during his voyage on the HMS Beagle. In fact, it was only a few days after his arrival to the American continent, in the immediacies of Rio de Janeiro (Botofogo Bay), that he encountered his first planarian specimens.
In Chapter II of The Voyage of the Beagle (first published in 1839), Darwin wrote:
"The existence of a division of the genus Planaria, which inhabits the dry land, interested me much…"
"I found no less than twelve different species of terrestrial Planariae in different parts of the southern hemisphere. Some specimens which I obtained at Van Dieman's Land, I kept alive for nearly two months, feeding them on rotten wood. Having cut one of them transversely into two nearly equal parts, in the course of a fortnight both had the shape of perfect animals. I had, however, so divided the body, that one of the halves contained both the inferior orifices, and the other, in consequence, none. In the course of twenty-five days from the operation, the more perfect half could not have been distinguished from any other specimen. The other had increased much in size; and towards its posterior end, a clear space was formed in the parenchymatous mass, in which a rudimentary cup-shaped mouth could clearly be distinguished; on the under surface, however, no corresponding slit was yet open. If the increased heat of the weather, as we approached the equator, had not destroyed all the individuals, there can be no doubt that this last step would have completed its structure."
"Although so well known an experiment, it was interesting to watch the gradual production of every essential organ, out of the simple extremity of another animal…"
Darwin wrote, in fact, an article on the many species of planarians he encountered in the Southern hemisphere. The paper appeared in the Annals and Magazine of Natural History (vol. XIV, p. 241-251, 1844). The plate on the right (drawn by Darwin himself) illustrated the article.
A comprehensive, well organized and thoroughly informative site on The Writings of Charles Darwin has been compiled by Dr. John van Wyhe.
Darwin's "The Voyage of the Beagle" is in the public domain and can be purchased through Amazon.com or freely downloaded from Project Gutenberg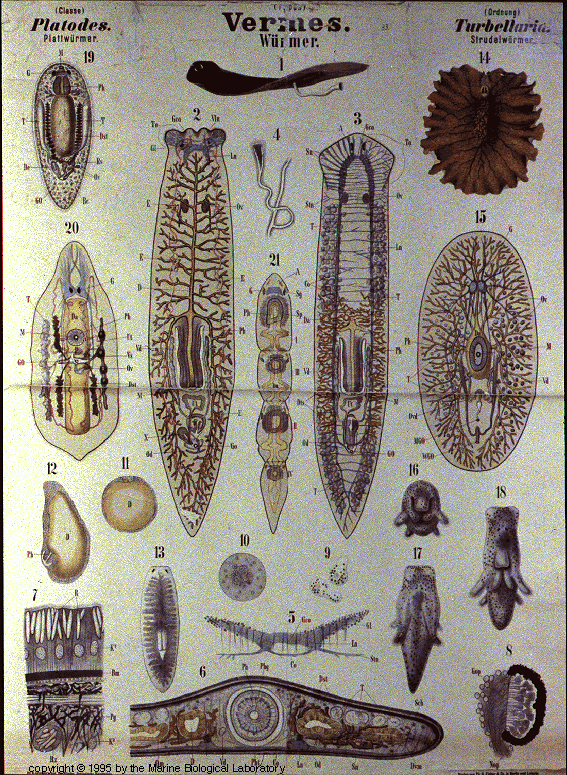 Leuckart Illustration
Above is a 19th century illustration of various planarians taken from The Wandtafeln of Rudolph Leuckart (1822-1898)
Pluripotency
Ernst Haeckel describes pluripotency of embryonic cells using fragments of amputated siphonophore embryos.
Stem Cells
Stem cells are referred to for the first time by Keller
NEOBLASTS
The term "neoblasts" is coined by Harriet Randolph
Observation of Regeneration
First observed by Isao Iijima
Character vs. Function
August Weismann postulates his germ plasm theory to distinguish cells that transmit acquired characters and those that carry out bodily functions (soma). The English translation appears a year later in 1893.
Lens Regeneration
Wolff demonstrates dorsal, pigmented epithelial cells is source of lens regeneration (first described by Colluci in 1891). First in vivo example of adult cellular reprogramming.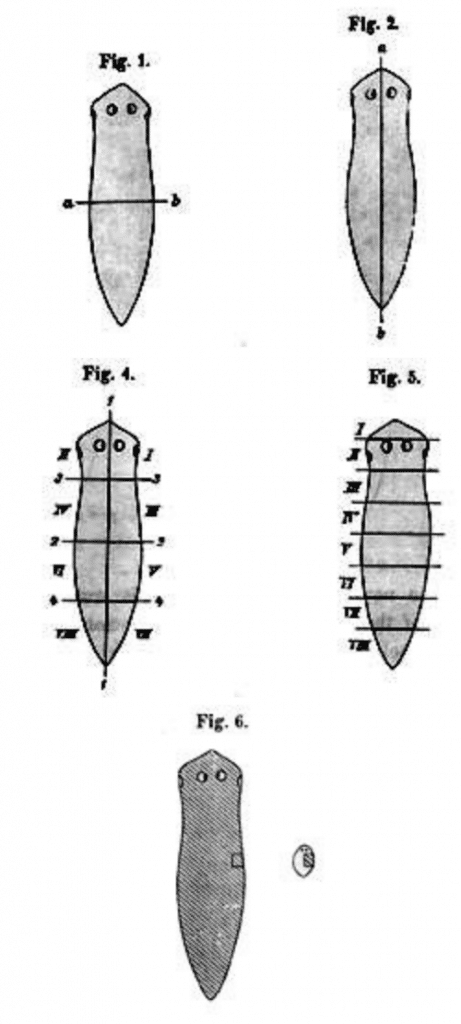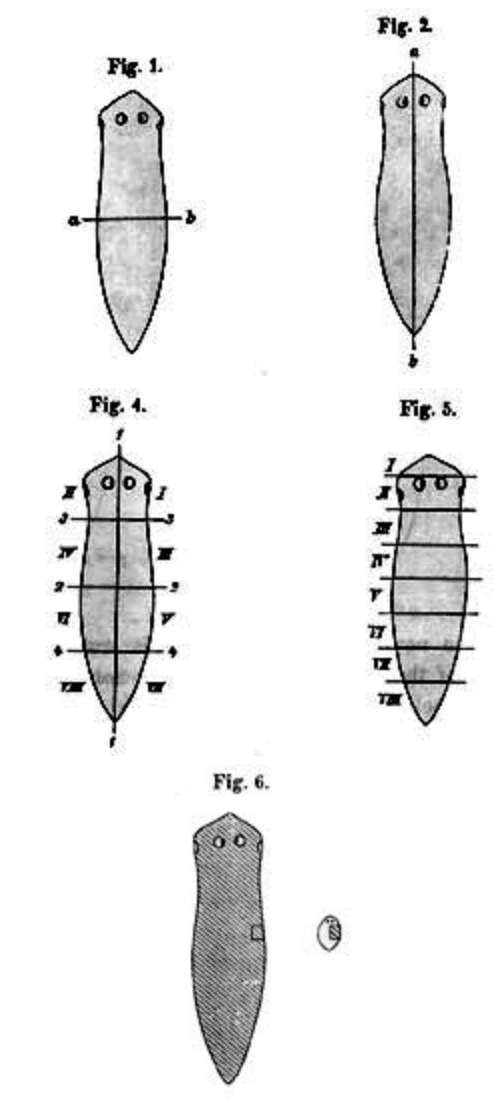 The Pioneering Planarian Regeneration Experiments of Harriet Randolph
In 1897 while at Bryn Mawr College, Harriet Randolph published a paper entitled" Observations and Experiments on Regeneration in Planarians" (Arch.Entw. Mech. Org. 5: 352-372). The work was carried out during the summer of 1893 at the Marine Biological Laboratory in Woods Hole, Massachusetts.
This paper is remarkable in several respects, two of which are that it provides a thorough and scholarly review of the history of planarian regeneration up to that time; and secondly, it goes on to describe a series of systematic amputations the author performed on these organisms. It is very likely that Randolph's work may have ignited T.H. Morgan's interest in planarians since at the time, he was an Associate Professor of Biology at Bryn Mawr College.
At left, several of the figures from Randolph's manuscript are presented to illustrate the variety of ways in which she cut planarians (Planaria maculata) to challenge their regeneration abilities.
Animals were cut transversely (Fig. 1) and longitudinally (Fig. 2) and in most cases, each of the obtained pieces was capable of regenerating the missing halves. Randolph also noted that head amputation also had the effect of being able to induce fission in the posterior halves (tails) of the animals since " there were six individuals more in the dish than there would have been if all the tail-pieces had regenerated".
In Fig. 4, the animals were cut both transversely and longitudinally. Randolph repeated this experiment several times and reported that " in all cases each piece lived. Regeneration of all the missing parts took place…"
In Fig. 5, the animals were cut transversely into eight different fragments and " all the missing parts were regenerated. The new individuals lived and seemed entirely normal…"
The experiment shown in Fig. 6 was designed to test the size limitations of planarian regeneration. As Randolph reported " a piece only large enough to be seen with the naked eye will develop into a perfect whole".
Later T. H. Morgan would show that a fragment 1/279th the size of the original organism is competent to regenerate a whole animal, thus confirming and extending Randolph's results.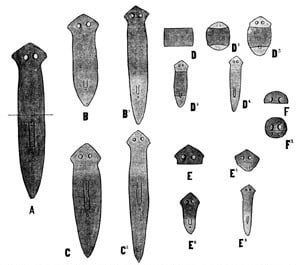 Thomas Hunt Morgan
Thomas Hunt Morgan (1866-1945) received the Nobel Prize in Medicine or Physiology in 1933 for his discoveries concerning the role chromosomes play in heredity.
At the beginning of his career, however, Morgan spent considerable time and effort on the study of embryogenesis and regeneration, and published several important articles and books on these subjects. Of relevance to us is his 1901 book appropriately entitled "Regeneration". The work and ideas presented in this book remain relevant to the modern study of regeneration, and many of the incisive questions postulated in this work remain unanswered to this day.
However, Morgan eventually abandoned the study of regeneration since, in his own words, he felt that "we will never understand the phenomena of development and regeneration" (Berrill, N. J. "The pleasure and practice of biology" Can. J. Zool. 61: 947-951, 1983).
To the left is an illustration made by Morgan for his book on regeneration showing the variety of ways planarians go about regenerating themselves. The original caption reads:
"Fig. 4.- A-E Planaria maculata. A. Normal worm. B, B1. Regeneration of anterior half. C, C1. Regeneration of posterior half. D. Cross piece of worm. D1, D2, D3, D4. Regeneration of same. E. Old head. E1, E2, E3. Regeneration of same. F. P. lugubris. Old head cut off just behind the eyes. F1. Regeneration of new head on posterior end of same."
Transplantation
Using hydra, Ethel Browne reprograms host endoderm into new organism by transplanting hypostomal (mouth) tissue.
NEOBLASTS
Permanently designated "neoblasts" by J.W. Buchanan
Somatic Nuclear Transfer
Gurdon demonstrates that mature cells can be reprogrammed to become pluripotent by somatic nuclear transfer.
Blastocysts
Martin Evans and Gail Martin derive mouse embryonic stem (ES) cells by culturing the inner cell mass of blastocysts.
Reprograming of Fibroblasts
Harold Weintraub demonstrates reprograming of mouse fibroblasts into muscle by a single transcription factor (MyoD).
Embryonic Human Stem Cells
James Thomson and colleagues derive embryonic human stem cells.
Induced Pluripotent Stem Cells
Takashi and Yamanaka describe the generation of induced pluripotent stem cells
iPSCs from Fibroblasts
Yu and Thomson derive human iPSCs from fibroblasts